Cubicle Warrior's blog, week 19 of 213 (1,333 more days). This was probably the worst week of my life in terms of work (First World Problems). Solution: more wine. This week's entries: Tebowing, satellite stuff, HYPER martial arts, football, and food.
Today's quote comes from President Gerald R. Ford. This particular quote is often mis-attributed to Thomas Jefferson, Ben Franklin, or any smart, famous person some clown sticks onto a picture destined for Facebook. It really is getting tiresome to read all the so-called political experts on Facebook nowadays. My only political statement is this: be careful of what you ask for from your government. Read the Constitution, maybe take a free Constitution class, or re-read your old school books. Be sure to vote in a couple months, even if you get all your information from Facebook.
A government big enough to give you everything you want is a government big enough to take from you everything you have. President Gerald R. Ford, in a Presidential address to a joint session of Congress (12 August 1974).
Miscellaneous
President Obama's promises to the US military [LINK]. No political comments here–just the facts.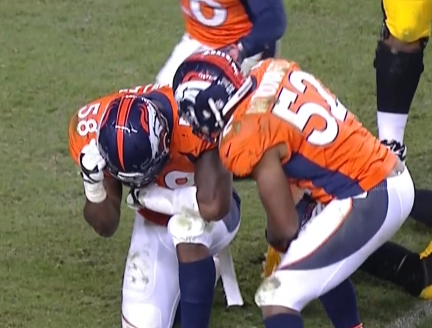 Von Miller just Tebowed after sacking Ben Roethlisberger!
Food 
Cyber
Kratos Defense & Security Solutions, Inc. (Nasdaq:KTOS), a National Security Solutions provider…has significantly increased its Interference Detection and Geolocation (iDetGeo) service coverage by activating two additional operating sites in Maryland and Hawaii [LINK]. Kratos provides iDetGeo service for 269 communications satellites, or 90% of the fixed satellite services across the globe. That means that they protect 1,127 satellite uplink/downlink beams from one of six fixed sites around the world. If someone is jacking with your satellite feed of porn, you can blame the Chinese for jamming the signal, or you can blame Kratos for not protecting the link.
The kids started High Performance Martial Arts (HYPER) this week [LINK].
College football
The Florida Gators climbed up a few spots in the AP poll, thanks to mis-steps by Arkansas, Nebraska, and Wisconsin. Honestly, the Gators did not earn a promotion in the poll. They did not earn a demotion either, so I guess the ranking is fine where it is until they beat a ranked team. Up next: #23 Tennessee.
Alabama looked very good this week, almost as good as an NFL team. Granted, this week it was just an FCS team. USC looks pretty good as well. Matt "Mr. Trojan" Barkley looks like a shoe-in as Heisman winner this year. LSU is going to be a mystery again under the Mad Hatter. The Texas Longhorns look like an up-and-coming contender under dual-threat QB, David Ash.
Florida Gators hang on to spoil the Texas A&M Aggies SEC debut [LINK]. I will not be talking any smack. This Gator team is not good enough to have swagger, but it was good enough to hold the Aggies to 65 yards of offense in the second half (after yielding 263 yards in the first half). With the win, Florida moves up from #24 to #18.
Entertainment
VH1 Pop-Up Video is back! I know, this is old news to everyone else. I do not watch a lot of television, so this is news to me. I forgot how awesome Billy Ocean was…30 years ago. How about that Sheena Easton! Dang! She was hot!
Related articles